Pothole Repair System
Effective repair of big and small potholes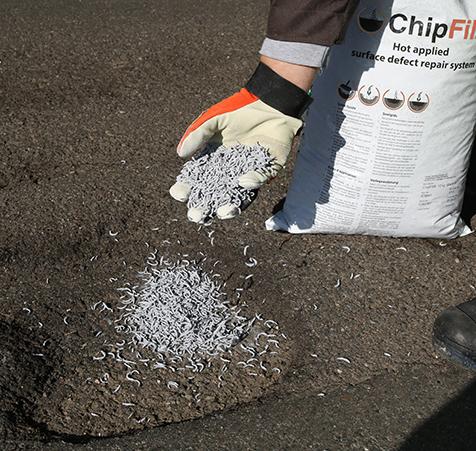 ChipFill™ is our effective pothole repair system for smaller damages on roads. It is fast and easily applied with the use of a heat torch which makes it conform to the contours of the pothole and bond to the surface. This makes ChipFill a durable and cost-effective solution as it prevents damages from becoming bigger and more expensive to repair.
Benefits
The easy installation with just the use of a heat torch ensures a quick repair of road damages and a minimal downtime of traffic.

Avoid small damages turning into costly repair projects as ChipFill conforms to the contours of the pothole and prevents water ingress that makes the damages larger.

The possibility for all-year-round application lets you fix the damages whenever you see them.
Potholes that are left unattended can become a great threat to road safety and beyond what ChipFill is able to repair on its own. This is where AggreFill comes to the rescue. By combining ChipFill with this pre-coated aggregate filler, you will be able to repair bigger and deeper holes and keep roads from deteriorating further.
Benefits
Repair larger potholes of up to 1 sqm in diameter with the unique two-part system in which Aggrefill functions as a filler.

Fix damages in a matter of minutes as the combination of AggreFill and ChipFill is made to set rapidly so that traffic can re-open quickly.

AggreFill makes it possible to benefit from the unique qualities of ChipFill on even more types of repairs, while still requiring only a limited number of products, tools, and equipment.