Type I hot-applied products
Flat markings with high visibility in dry conditions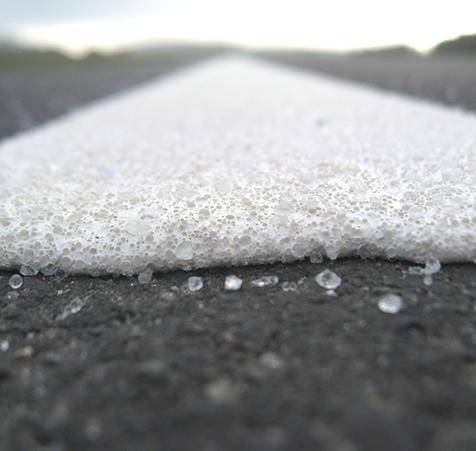 ViaTherm™ is our leading hot-applied road marking material, that we have developed and refined for several decades. Applied on roads across most of the world, it is known for its high performance and long-term durability whether applied as centre lines, edge lines, hatched areas, or pedestrian crossings. ViaTherm is suitable for both Type I and Type II markings and can be extruded, sprayed, or manually applied. The material is adjusted to all climates and has been tested, tried, and internationally certified according to the most stringent standards.
ThermLite™ is a versatile and cost-effective thermoplastic marking material. It is available as both a Type I and non-reflective marking in a range of different grades and can be used for both extrusion and screed application.
Intended for areas with normal traffic load, ThermLite is ideal for rural roads and parking zones, where it provides a durable marking solution.
Benefits of ViaTherm™
Quality markings are guaranteed when choosing ViaTherm! It follows all national certification requirements and we provide a full warranty so that you can rest assured that you are choosing the right road marking material for the job.

Get superior visibility through the entire lifespan of the marking as the high content of glass beads is slowly revealed when the marking is worn.

Due to its long durability, ViaTherm constitutes a cost-effective solution that saves you the task and added cost of frequent re-marking.

With ViaTherm, you can keep disturbance of traffic to a minimum as it quickly hardens once applied making it possible for a fast re-opening of traffic.
High satisfaction and extended warranty
ViaTherm is the preferred choice for professional road markers seeking a hassle-free product, that works the same way every day.
At Geveko Markings, we trust the longevity and performance of our product so much, that we offer extended warranties for performance and durability, far beyond industry standards.
Benefits of ThermLite™
Combine durability with cost-efficiency as ThermLite's quality formulation offers a long-lasting, high-performing marking on rural roads with normal traffic loads.

With ThermLite you are sure to get reliable results as the product is tried and tested leading to CE markings and certifications in a range of countries.

Make a sustainable road marking choice with ThermLite as it has a high content of renewable and recycled materials and therefore a low impact on the environment.
Products within the range
ViaTherm™ Viking
ViaTherm Viking is specially developed for application during early spring and late fall when the roads tend to be moist. It is applied like other bulk thermoplastic road marking materials from Geveko Markings.
However, the special formulation of ViaTherm Viking makes the adhesion to the road stronger over time even if the initial adhesion is affected by moisture.
Benefits
Prolong the application window with the special formulation of Viatherm Viking that provides exceptional adhesion properties even in moist conditions.

Improve cost-effectiveness and profitability on your applications as ViaTherm Viking makes it possible to start the application early in the day and continue for longer, thereby optimising the utilization of resources.

Reduce the risk of product failure in high-risk areas as ViaTherm Viking's formulation ensures strong adhesion to the road which actually increases over time, even in areas prone to moist surfaces.