Solventborne Paints
Long-lasting paints with flexible application methods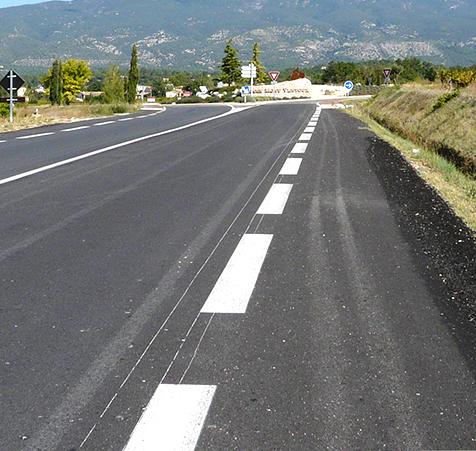 HSRoute and 3SRoute are our ranges of solventborne high solids paints. As these paints are often applied in a thin layer, you will get a cost-effective solution by choosing a solventborne paint. Our range differs in composition, skid-resistance, and solvent type which makes it possible to always find a product that meets your specific requirements.
Benefits
The broad application temperature window makes it possible to apply HSRoute and 3SRoute all year round providing you with ultimate flexibility.

Different surface, no problem! HSRoute and 3SRoute materials are suitable for permanent markings on asphalt as well as on concrete with the use of a primer.

Choose the best application technique for your project. HSRoute and 3SRoute can be applied with both pneumatic and airless application machines or with a paint roller.

All 3SRoute products are delivered in EcoPack packaging which limits the loss of material and lets you recycle the bucket for reduced overall waste cost and less environmental impact.
Products within the range
HSRoute™ HSE
This one-component, solvent-borne paint is recommended for areas with a medium amount of traffic and is produced exclusively in white. With the airless application method, you can achieve both fast and very precise results whether applying as a Type I or Type II marking.
Benefits
Enjoy an easy hassle-free application with this one-component product that can be applied directly from the bucket.

As HSRoute™ HSE is designed to be applied in a thin layer, you can benefit from having a low material consumption without compromising the result.

Thanks to the product's high durability, you can lower your application costs over time by avoiding frequent remarkings.
HSRoute™ HS POX Outdoor 2C
This two-component paint should be mixed in a 28:1 ratio and can be applied with a standard airless machine. It comes in classic white and yellow, but also in a range of other colours which makes it suitable for multiple purposes.
Benefits
Avoid long traffic shutdowns. The material has a fast drying time providing an effective application and fast re-opening of traffic.

The high performance value over time provides for a durable product suitable even on areas with high traffic loads.

One paint with many possibilities - with the multiple colour choices and high durability you get a broad range of application options.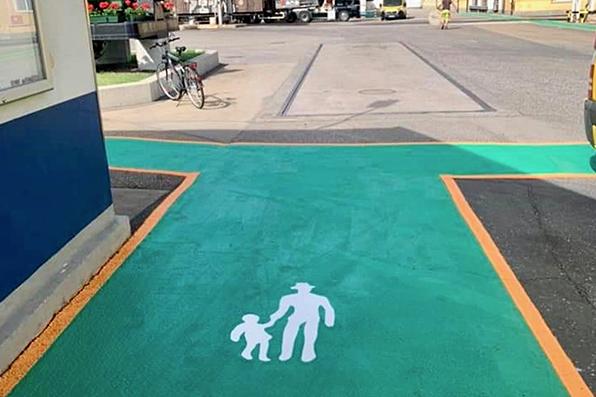 HSRoute™ Antiskid fine
Characterised by its excellent anti-skid performance, this one-component paint can be applied straight out of the bucket. It is a perfect fit for cycle and pedestrian lanes, where it creates a frictional surface that feels safe and comfortable to move around on.
Benefits
HSRoute Antiskid fine can be applied in a thin layer providing a low material consumption and consequently, a good cost performance.

Due to its high anti-skid performance, HSRoute Antiskid fine minimises the risk of accidents and provides increased safety for road users.

Save time on the application process as HSRoute Antiskid fine has consistently intermixed aggregates which eliminates the need for post-sprinkling.
3SRoute™ HS5
3SRoute™ HS5 is a recommendable solution for lining on country roads or other areas with limited traffic, where it can be used for year-round application. It is developed specifically for white, but can be offered in colours on request.
Benefits
The high-speed airless application method lets you achieve sharply shaped lines and ensures a good cost-performance efficiency.

As 3SRoute™ HS5 can be applied in a thin layer, you can lower your material consumption without compromising the result.
3SRoute™ Polykolor
With its range of bright colours, 3SRoute Polykolor can add a splash of creativity to areas with limited traffic such as pedestrian paths and decorative spaces.
Artist: Zdey - ©Tim Jarrosson
Benefits
Be sure to get a colour suitable for the job at hand with the wide variety of colour tones to choose from.

3SRoute™ Polykolor is a cost-efficient solution as it is applied in a thin layer resulting in low material consumption.
3SRoute™ Polykolor Airport
Specifically developed for use at airports, this paint provides fast, easy, hassle-free application right out of the bucket with as little disruption on the airfield as possible.
Benefits
3SRoute™ Polykolor Airport is your guarantee for approved quality at the airport as the material conforms to all official ICAO and EASA standards including certified colour tones.


Thanks to the airless application method, you will get a precise result and a time-saving application process.